Dating is constant navigating, and if there's one question I get asked frequently, it's should I trust my intuition about men?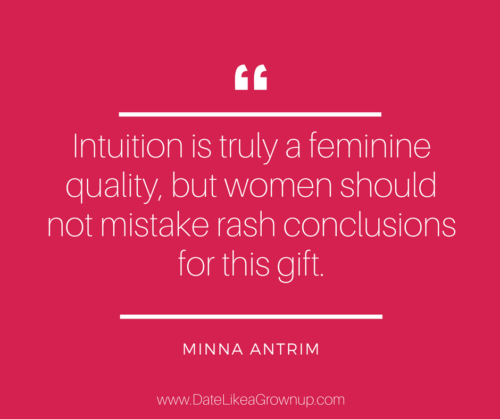 The short answer on this may surprise you:
NO.
Intuition is a fabulous quality, one that gives women a sixth sense in situations. And when it comes to keeping safe, knowing when our babies are coming down with something, even finding your way when you're lost… yes, it's a reliable radar system.
But girlfriend, when it comes to intuition and dating, I'm not so sure it's serving you as well as you think. Women constantly push really good guys right out of their lives without even knowing it.
But my gut is always right, you say?
Hmmm…is it really?
Recently, I had a private client tell me about a date that lasted under an hour. And as she left, she just knew he wasn't for her – that he had nothing going on.
(This same client, btw, happens to have a string of these experiences and is not meeting any "good men", to hear her tell it.)
Bottom line: it's important to balance your head and heart when you're looking for Mr. Right (this is Principle #1 of dating like a grownup). Because we often say our intuition told us he's not for me when really it's just that you didn't get the buzz.
And while I'm mentioning it, check out Principle #2 and Principle #3.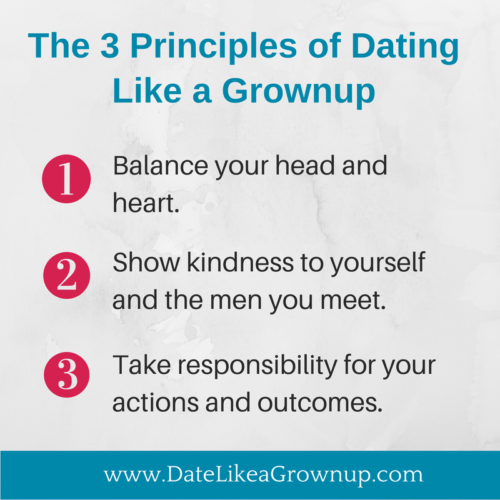 Confused between your gut (intuition) and the buzz?
The buzz is that part of you that wants to be swept off your feet.
You know, the part of your brain that says he needs to make you laugh, have charisma and charm and, upon first meeting, be able to carry on a conversation with you sans any silence. You know…the conversation just "needs to flow."
Here's a Grownup reality check:
When meeting you for the very first time, very few men have the skill of unbridled wit and conversation. Read this if you want more perspective on why he may not wow you on the first date.
If there's one thing I know about dating like a grownup, it's that you need a man who makes you HAPPY, not one that gives you that feeling.
Finding a good man is just too important to treat superficially, sister. I can't tell you how many times I've encouraged clients to give a man they didn't find particularly hot a try – only to find, an hour into the date, that he was really attractive to her – and with time gave her LOTS of that feeling!
So give him a try (an honest, no-judgments try).
Should you feel some spark? You bet, but keep your expectation for SHAZAM in check. Then make your decision with your head and your heart. You just might be surprised who you find.
PS – This is pretty much my story too! If I had gone with my instincts when I met Larry, I'd probably still be looking online. Thank goodness I hung around to find out what an incredibly loving and hot man he is. If you're waiting around for some fantasy man, read this.
What do you think? I want to hear from you. Can you see how your intuition (aka quick judgment) may not work well for you? Should you trust your intuition about men?
And share with a single girlfriend. She will thank you.