Dating Expert Bobbi Palmer's Grownup Love Success Story: Shari B.
JOE AND I HAVE BEEN TOGETHER FOR 3 1/2 YEARS. WITHOUT BOBBI, I WOULD NOT HAVE RECOGNIZED HIM AS THE PERFECT PARTNER FOR ME.
Before working with Bobbi, I had no problem meeting men, just not the right kind of man. Disappointed and heart broken for 7 years, it seemed like I could never meet the kind of man who wanted a long term relationship, was thoughtful of me, was someone I could trust, and who would make a great husband.

Being a single mother to a lovely young and impressionable daughter, I needed and wanted to be a good example to her. I was more like the example to her of what "not" to do. I longed to be in a healthy, loving, respectful, fun relationship, but felt defeated and hopeless.

Bobbi taught me the most valuable lesson: It's all about Me. My focus shifted from does he like me, to do I LIKE HIM? With Bobbi's coaching and thought provoking questions, I gained the confidence I was missing. Best of all, I learned to let go of my "list" and honed in on how to pick a man with my grownup self instead of how I was picking...like a teenager.

Joe and I have now been together for 3 ½ years and he invites me to feel all the feelings I've fantasized about, and more! Without Bobbi, I would not have recognized Joe as the perfect partner for me – but he is exactly that – perfect for me! Bobbi's coaching gave me a new perspective and changed my life forever. - Shari B, 53

Dating Expert Bobbi Palmer's Grownup Love Success Story: Karen C.
I STARTED MEETING SOME QUALITY MEN FOR THE FIRST TIME, AND EVENTUALLY MET THE LOVE OF MY LIFE.
I love Bobbi's kindness, patience, and exceptional coaching advice. In just a short time Bobbi moved me along from being scared to having fun dating. She's the master at Dating Like a Grownup! Bobbi taught me her 6-Step Find Hope and Find Him System, rewrote my online dating profile and helped select pictures. She educated me on how to select men to meet and how to write and answer emails. (My emails got answered for the first time ever!)

This may sound simple, but having Bobbi on your side is like having a secret weapon in your back pocket. I hope other ladies in their 40s, 50s and 60s who want a relationship but are scared and lonely find Bobbi and invest in their future. I thank you, Bobbi, from the bottom of my heart. You have given me hope, results, and now love. - Karen C, 65

Note: Here is a picture of Larry and Me at Karen and Norman's beautiful Commitment Ceremony.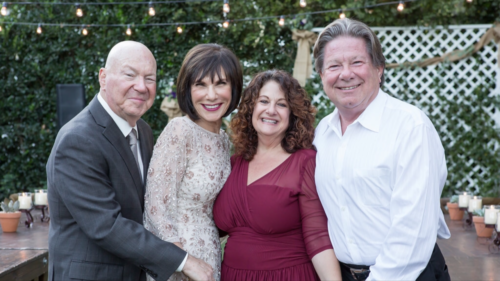 Dating Expert Bobbi Palmer's Grownup Love Success Story: Giselle
I AM THE HAPPIEST WOMAN ALIVE!
I reached my wish thanks to you, Bobbi!! I was at my lowest ever when I met you. Your training and advice were absolutely crucial to my development. You taught me I had to change. I had to learn to love myself and be my own best friend. It was not an easy road. I had to learn to be patient and persist. Giving up was not an option.

It was the beginning of a long but necessary journey. I knew I wanted to meet the RIGHT man. I did not want to face the rest of my life alone. And slowly, amidst some tears, I got out of my own way. I faced health issues and a cross-country move. Those issues or events taught me lessons of patience and appreciation. Gratitude, persistence and compassion. My focus didn't budge. And of course lots of prayer. Faith in my desire led me step by step.

Willson and I happily tied the knot in January 2017 at a beautiful vineyard. My prayers were answered beautifully. I am the happiest woman alive. And shall continue forever.

Many blessings to you for believing in me and teaching me to believe in myself and in my dearest dream. Much love, Giselle

(A special note: Giselle and Wilsson maintained a long distance relationship for well over a year. Yes, it can work! )
THANKS TO YOU AND YOUR PROGRAM I AM DATING NOT ONE BUT TWO VERY GROWN UP, KIND, LOVELY MEN!
Your Online Dating workshop was everything you promised and more. I had been online dating for 6 months and had given up hope. Thanks to you and your program I am dating not one but 2 very grown up, kind, lovely men! You were sooo right. They are out there, if you learn how to attract them! The workshop - OMG, I learned KEY critical information that changed everything, and set me up for fun and success. I am 100% sure that you and your workshop got me where I am today. I am having the time of my life because of You! Thank you for helping me realize my dreams!" - Susan

Dating Expert Bobbi Palmer's Grownup Love Success Story: Jeannette T.
WORKING WITH BOBBI CHANGED EVERYTHING! I AM NOW MARRYING A WONDERFUL MAN THAT I MET ONLINE.
Before working with Bobbi, I was feeling incredibly stuck. I'd been divorced for 3 years and fumbled around with online dating for about 6 months without success. My lack of success made me feel like I couldn't ever find love – and my negative self-talk constantly came knocking. But working with Bobbi changed everything! Not only did I learn how to put myself out there online, I'm getting attention just walking around at the grocery store and in the day-to-day. That's never happened and I can enjoy it now!

Best part is, I am now in a relationship with a wonderful man that I met online. There's NO WAY I would have given him a chance prior to working with Bobbi. While my boyfriend isn't that GQ "shiny" man that my 18-year-old self was looking for, he is the best guy for me! He supports me in ways I've not experienced before, we have a strong foundation of similar faith, and we meet each other's needs – everything that really matters to me. Bobbi helped open my eyes to be able to see what would really make me happy. And it's him!

Financially speaking, it was challenging to spend that much on myself on this program. But how could I put a worth on having more self-confidence and knowledge that my life going forward would be so much better than the past? That was priceless and I'm so glad I made the investment... to think I would have missed My Man!

UPDATE: I want you to know how much you have been a great impact to my life. Lance and I looked at engagement rings today! We are planning our wedding for summer 2017.

I would never have seen the amazing man Lance is without your guidance. I learned so much about myself and about what I wanted in a man while working with you through the Love program. Thank you for such an amazing gift. See you at my wedding! Happy days, ~ Jeannette T, 46

Dating Expert Bobbi Palmer's Grownup Love Success Story: Jeanine S.
TAKE IT FROM A FORMER UNHAPPY SINGLE GIRL WHO IS NOW MARRIED TO THE LOVE OF HER LIFE - BOBBI KNOWS HER STUFF!
I admit it. I was a skeptic. I was convinced that no datable men would be interested in a "fluffy" 46-year-old career spinster...also that online dating was evil. But I was wrong, wrong, wrong. After I completed Steps 1-3 of her 6-Step Find Hope Find Him system (which is brilliant, btw!), I finally went online. Bobbi practically had to drag me kicking and screaming. She wrote me a kick-butt profile, and I started getting emails within literally minutes after posting it.

Bobbi taught me how to identify the scammers and players and showed me the magic formula for writing emails that got responses that led to phone calls that resulted in dates. (Yep, real dates with actual cute men who have jobs.) Within the first two weeks I had dates with three different men!

It's been about 3 months since I first went online, and am now dating a great guy* who thinks I'm fantastic. We are having a great time going on picnics, seeing movies, and get this -- taking dancing lessons. Yes, dancing lessons. I have Bobbi to thank for all of it. Do yourself a favor, don't wait any longer. Work with Bobbi in private coaching through her 6-Step system so she can help you start meeting high quality men and lead you to love!- Jeanine S, 56
UPDATE: In March, 2014 I was honored to perform Jeanine and Ron's wedding. (Yah, the great guy she was talking about.) Congratulations Jeanine!"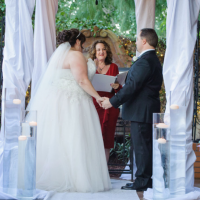 Dating Expert Bobbi Palmer's Grownup Love Success Story: Rebecca K.
I'M VERY EXCITED TO ANNOUNCE THAT WE WILL BE GETTING MARRIED IN APRIL ON A CRUISE TO THE CARIBBEAN!!!
You are an angel in my life, and it's no accident our paths have crossed! I'm so grateful for your guidance, Bobbi! Thank you so much! I'm blissfully in love and having the time of my life with this amazing man! I definitely would not be where I am today without your guidance and support! Thank you so much for helping me to manifest my dreams into reality!! - Rebecca K, 40

Dating Expert Bobbi Palmer's Grownup Love Success Story: Suzanne
AFTER MEETING SEVERAL HIGH QUALITY MEN, I'M IN A FANTASTIC RELATIONSHIP WITH AN ACTIVE, INTERESTING, GOOD-LOOKING MAN WHO I'M REALLY ENJOYING.
Prior to working with Bobbi, I had given up hope on finding Love. I had struck out enough times that I was over it. Done. I'd convinced myself that at 62, I didn't need a man – that I'd just move on. Then I found Bobbi. Her eBook and emails were so sensible and real – and all of her information focused on feeling good about ME first – which I really resonated with after giving up.

I finally decided to take the plunge with Bobbi's Love Program. I liked her intelligent, adult approach, focused on women over 40. Bobbi gave me incredible confidence and optimism. I knew I'd be able to do this. With her help, I got a great profile together, and fantastic pictures. She gave me just the tools that I needed.

This program was really worth every penny. I've wasted so much money over the years on stupid things, I really wasn't going to let this be the one thing I should have tried but didn't.

Now, after meeting several high quality men, I'm in a fantastic relationship with an active, interesting, good-looking man who I'm really enjoying. We met online and I'm hopeful for the potential. I never would have been here without working with Bobbi privately in her 6-Step Find Hope and Find Him Love Program. Thanks Bobbi! - Suzanne, 62

Dating Expert Bobbi Palmer's Grownup Love Success Story: T.L.
IT WAS YOU WHO HELPED ME SEE CLEARLY WHO I AM AS A WOMAN AND WHAT I WANTED IN A MAN.
Hi Bobbi! It was largely because of you and your guidance that I met my husband online through Plenty of Fish. You guided our group through the process of clearly defining who we were and what we were looking for. With that clarity, I was able to push away the cobwebs and know with more certainty what was important to me.

In January of 2016, I was going to the beach and asked him if he wanted to accompany me, just to have a pleasant outing. He said yes and, as I got to know him, our pleasant acquaintance became a romantic relationship.

I noticed that when I decided to marry him, the decision was made with both my head and my heart. We are as in love and committed as ever, and our first year wedding anniversary is coming up in May. So thank you because you definitely helped make all of this happen. It was you who helped me see clearly who I am as a woman and what I wanted in a man. Much love to you.

Dating Expert Bobbi Palmer's Grownup Love Success Story: Jane F.
THE BEST THING I'VE GOTTEN OUT OF MY WORK WITH BOBBI IS THE BELIEF THAT I CAN AND WILL MEET A WONDERFUL AND LOVING PARTNER TO SHARE MY LIFE.
At the end of last year I had been very discouraged. I'd signed up for Match but responses were next to nothing. I noticed some emails that came through from Bobbi and began to read them. I loved her advice and at 56, I was very interested that she focused on women over 40. I signed up for a seminar and was thrilled to find that I could rethink the dating process, that it could be fun, I could enjoy myself, and I could actually be the one to choose, not just hoping that he would or wouldn't like me. That was a game-changer. Through an exercise that Bobbi asked me to do, I came up with 'nuggets' (unique things about me, my likes and dislikes) - it made me realize that I needed to re-examine how I perceived my worth and value, what I had to offer and what I could bring to the table, which was plenty! Bobbi is very encouraging, supportive very down to earth and approachable. - Jane F, 56