(This is the second of four posts that teach you my "There-to-Here" story. Yep, they're long. And the 10 minutes it takes you to read this RIGHT NOW may alter the course of your life…directly toward grownup love. Today's post gives you the first of my three big AH-HAs that cleared my path to love.)
When you see other women like you who are in loving relationships, do you wonder how they got there?
What did they know( (or have) that you don't?
During  my almost 30 years single, it wasn't one thing I learned that moved me from super-singledom to my grownup love story with Larry.
And I definitely don't have anything that you don't. We're both flawed and yet, fabulous!
In yesterday's post I shared my diary entry from Valentine's Day 2001. I had written: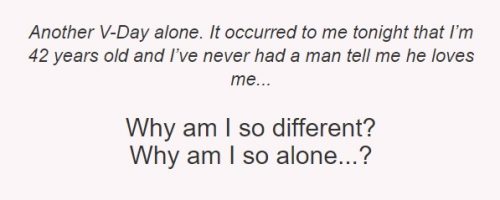 I was happy at that time in my life.
I had friends I loved, I traveled frequently, I had a nice home, and I had the freedom to pretty much do as I pleased in life.
Working as a consultant in corporate education for years afforded me yummy things like my Nordstrom personal shopper. (SO yummy!)
I had a smile on my face. Life was good but…
I was 42.  I had never been loved by a man.
There was something missing.
Today as a married woman I don't have the personal shopper, but I have all that other stuff. (Yes, including my freedom!)
Here's what I also have as a married woman: love and affection from a man that I can count on to make me feel safe, special, and happy almost every single day. (Hey, just being honest. It's not always perfect.)
Oh, and one more thing I now have is the privilege and the responsibility to help you do what I did.
In my private coaching, Over-40 Love School, blog, books, webcasts and home-study programs I share a mountain of practical how-to's that are all specifically for women like you.
Overall, though, here is the #1 question I'm asked:
What is it that I had to learn that freed me to find love at 47 after being so single for so long?
Read on for the answer.   
It's time you know this. After all I did do what you want to do, right?
The Big Thing was about freeing myself from a lot of old, baked-in, self-sabotaging bullshit.
But know this: there was no way I could change myself or my life so fundamentally without an expert helping me. My therapist, Anne, taught me how to open my mind, open my heart, and get off my butt! (Back then there were no dating coaches.) 
Yah, I had been dating on and off for decades. Here's what I mean by getting off my butt:
I had to get out into the world intentionally and unapologetically going after what I wanted most:
To love and be loved by a truly good man.
The journey of a thousand miles starts with one step.  ~ Lao Tzu
Every time your perspective shifts just a little, every time you let in some new information, every time you feel a new surprising feeling…you are closer to your goal of bringing love into your life.
Here is the first of my three big AH-HAs that cleared the path to me becoming a happy wife and to having the honor of helping you…
Like you, I was a competent, independent, accomplished women. And I had a mantra that maybe you can relate to:
Hey…I don't NEEEED a man, I just want one!
When I was 44ish, my teacher, Anne, asked me why I felt so compelled to make the need vs. want distinction. I came up with several explanations…blah, blah, blah…
but I finally understood what the mantra truly meant:
I was trying to protect myself from the awful possibility that I will never, ever be loved.
That was my epiphany #1.
It was GIANT! Stay with me!
You see…when we NEED something, the pain of not getting it can be devastating. But when we just wanted it we'd be okay if forced to live without it!
Choosing to believe that we only want love but don't need love gives us a "get out of jail free" card.
Sure, we kinda want real, lasting love but…
if we can't figure it out and never find it…hey, that's okay!
My life is great…not having the love of a man is no big deal. Wasn't that important anyway.
If you have this underlying belief, here is how it is probably showing up in your life:
---
1. Self-fulfilling prophecy kicks in.
We love being right so we subconsciously sabotage our chances, all in the name of allowing us that yummy 'see I told you so!' stance. (I didn't believe this either at first, but it's true.)
2. It gives us an excuse not to try – really try.
We either do nothing (the 'oh, I'm just waiting to meet him organically' – approach) OR we keep repeating unsuccessful experiences and finding someone else to blame, instead of taking personal responsibility for making our life happier by making love happen.
3. It sends a signal to the good, available men: Don't waste your time.
The good men we meet – men who are looking for authentic connection and grownup partnership – sense that we're not 100% committed to or ready for that kind of relationship. Those good grownup men don't call again.(Guys are far more intuitive than you may give them credit for. And btw, you are far worse at covering up your fears and negative feelings than you may think, sister.)
Would you say I don't neeeed money or I don't neeeed friends? 
Realistically you could live without them, but would you want to? 
Hell no! Because you really do need it!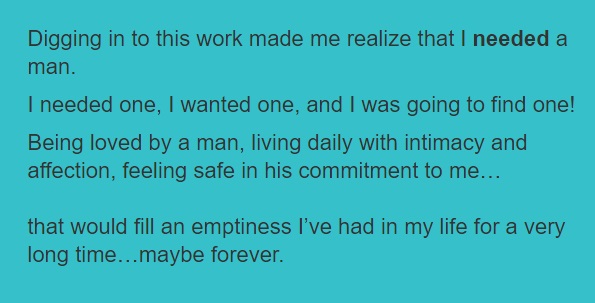 Yes, I was happy without a man. But the right man would bring me joy and add a dimension to my life that I didn't want to die without knowing.  
Once I admitted I needed a man some big barriers seemed to fade.
My intention got clearer.
My commitment to making it happen crystalized.
The world of love opened up just a little more.
I had confidence.
​​​​​​​I had HOPE!
I was ready to go after attracting love into my life the same way I had attracted so much other success and positivity to my life. 
I was ready to do this love-thing in a grownup way!
If you're relating…
if you play any version of the need vs. want game, I encourage you to TAKE ACTION and do this:
What I'm about to share is close to the same powerful work I was guided through umpteen years ago. For the past 10+ years it has been equally love altering for my private coaching and Over-40 Love School clients as I personally support them through the process.
This HAS to be your first step.
Before you start this exercise:
Promise yourself to work on letting go of the way the word 'neeeed' gets stuck in your craw. 
Needing and being needy are very different. You can need a man and still have total control, be super-smart, and love your life.
Repeat after me: 
It's okay to need a man. 
It's okay to need a man. 
It's okay to need a man.  
Okay, get started digging in by asking yourself:
Why do I feel compelled to make a distinction between need and want when it comes to my love life?
How is holding on to the 'want' belief serving me? Is it protecting me from anything?
When I have the Right Man in my life, what exactly will my life be like? What will it feel like?
If I believed (admitted?) that I needed a man to truly be fulfilled as a woman, would I make any positive changes in the way I go after dating and relationships? What might I do differently and how might my life be different?
Over the course of answering questions like this, I got honest with myself. I stopped pretending that Mr. Right was going to magically appear…
and that if he didn't that was okay.
It wasn't.
Anne (my therapist and teacher) helped me shift from feeling like a victim with little power to change my love life to realizing that all I had to do was stake my claim and approach my love life like the strong, smart, capable woman I was. (After some strong, consistent pushback from me, btw.)
Now, all these years later, I'm doing the same for the women I support in their journey to grownup love.
I help you stop believing it's okay to die alone, without experiencing authentic, grownup intimacy and love.
I help you stop blaming men, your age, the media, or the luck of the draw. 
I help you learn new perspectives and practical skills that replace those that are mucking up your love life.
Like I learned to do, I help you start relaxing…with yourself and with men.
You will be able to BREATHE and just BE.
Ahhhh….
Next, I'll share My There-to-Here Big Lesson #2: It's Not About the Size of Your Thighs. (Really, it's not!)
Check back here in two days!
With love, support, excitement, and admiration that you really read this entire message!

PS: So, what do you think of the need vs. want game that we play?
I want to hear from you! Please share your thoughts, feelings and what you learned going through the exercise. Is my story of what started me on my successful journey to love helping you?  Comment below!!
Read post 1 here: Ever Say "My Life is Great…BUT…?" (Let's take care of that But!)