Do you ever look back at your old diary or journal entries? It can be pretty dang enlightening.
A while ago I came across a diary entry of mine from Valentine's Day 2001. I was 42. It was emotional to read how I felt about still being single. (Yes, this is my actual scribbled entry.)
Of course, for about 16 years I've been in a solid, joyful, healthy marriage to a man who (almost always) makes me incredibly happy.
And next year I am joining him in retirement as we live out our lives together in our beautiful home in the highlands of Mexico. 
My journey to love took place in fits and starts over several years. I learned a ton, but there were a few simple things I learned that placed me on the direct path to my grownup love story.
Had I not understood these few giant "ah-ha's" I believe that I would still be single today.
As your coach, I'm honored and excited to pass anything on to you that will help you start living like I'm living.
You deserve it.
And I have no doubt it's waiting for you.
Certain things I finally learned turned out to have extraordinary impact on my life. I'm sharing those with you in this and the next few emails.
I hope you take this journey with me so you, too, can be on your way to confidently, unapologetically, and whole-heartedly going after love. 
Because, my sister, that is the ONLY way you're going to find it at this time in your life. Love isn't just showing up.
But you already know that.
This, and the next few posts, uncover the THREE BIG LESSONS I had to learn in order to get from "there to here."
The stories I'm about to share are kinda long. But the 6 minutes you take on each can literally change your life forever
in the most positive of ways

.

I mean that sincerely.

So…back to what I wrote in my diary. (They were diaries then, not journals, right?)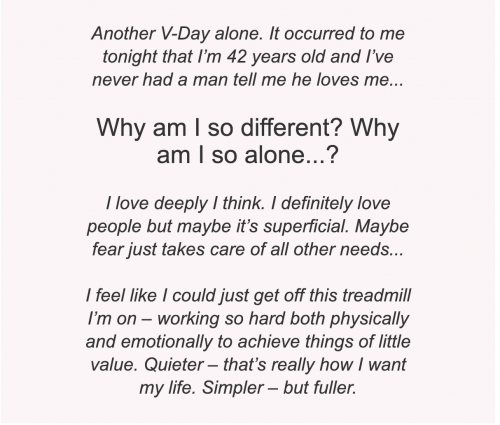 Ugh. Why am I so alone??
Remembering how lonely I felt so many nights brings me to tears. A lot of my single years were really difficult.
Do you ever feel this way?
There's the frustration of not being able to figure out why you can't have That One Man who has PICKED you. You can't have That One Man who thinks you are more special than any woman he's ever met and makes you his #1.
And there's embarrassment, right? Even some shame about NOT BEING LOVED, especially at this age.
I hope I can say this to you. It's a pretty big deal. I was there.
I lived with fear, frustration, and embarrassment for decades before I wrote this diary entry…and I wallowed and stayed stuck in that muck for three more years!
It took me that long to make the one decision that changed my life. I decided (admitted) that I couldn't figure this out alone. I needed help.
So…here's my question to you:  
How much longer are you going to stay stuck without your special love in your life??
You've reached a "certain age"…
you have a great life….
BUT…
don't you want more…like I did?
Don't you feel like you're missing out on something?
Aren't you tired of having to do it all yourself? Having no strong shoulder to lean on? No one you know you can count on, share intimacy with, laugh with…and weather the storms with? (And you know there are more storms coming.)
Can you relate to my story? I wanted the love and commitment of a man so badly…and what I was doing wasn't working.
I had tried for (literally) decades.
Do you ever wonder like I did: Why am I so different?
How is it that women who aren't half as kind, successful, bright, and attractive as you are happy in love?
(Don't feel bad about thinking this. I used to look around at other women and think it all the time.)
I wondered what they knew that I didn't.
Why was I going to dinner parties as the 5th, 7th, or 9th wheel? (When I actually got invited and went, that is.) Why was I riding the gondola in Venice with my girlfriends?
Why did I still have to put myself out there in the dating world at this age, feeling like a piece of meat that men will either choose or not choose?
I finally learned that there was nothing wrong with me.
I finally understood that I was lovable, and beautiful, and worthy. (More about how I did that later.)
I also finally understood that there were fundamental changes I needed to make. There were so many things I had to learn…and unlearn.
You do too. (Again, this is me doing my job as your compassionate, truth-telling coach.)
It is our responsibility to make these changes..and it is completely within our power!
I'm living the fuller life that I wrote about wanting in that diary entry in 2001.
How did I get from that diary page to being 13+ years into a happily imperfect marriage?
How did I get from there to here?​​​​​​​
As the old proverb says, "When the student is ready, the teacher will appear."
It was three years after I wrote that diary entry that I finally got to my "it's now or never" place.
I was done being single and feeling crappy about it.
I had a great life BUT I wanted to be part of a couple.
It's then that I searched for help. Not the silly "Rules" kind of help. Or passively reading a book kind of help. I needed someone to look me in the eye, tell me honestly what I was doing that kept chasing men away, and then teach me how to do it differently.
And I needed someone to help me dig deep and sift through my old stuff. (I definitely had a lot of stuff.)
I found my teacher at 45, and with her kind but truth-telling guidance, I was led to a few major ah-has that rocked my world.
She helped me feel the way I needed to feel before I could attract love into my life:
hopeful,
worthy of the love of a good man, and
certain that I was going to meet Him.
Maybe you are where I was and feel something essential and necessary is missing from your life. You feel the pull of time passing and want to start creating memories with someone you truly love.
You're feeling lonely and you can't figure this out.
Maybe there are times you think "What is wrong with me?"
For me, living without love put some kind of dark cloud over all else that was great in my life. How about you?
If you can relate, even in the smallest way, please let me teach you what I learned.
In the next few posts I'm going to share how I got from this diary entry in 2001 to marriage, security, and a pretty exciting life of courageously loving and receiving loved.
I'm going to take you to the beginning of my journey so you too can find the ah-ha's that will transform your love life.
You will no longer have to say "I have a great life, but…"
You'll simply say "I have a great life!"
I hope you come along. Are you ready for your teacher to appear?
With a ton of love and excitement for the support I'm about to share,

PS: Grownup love is The Bomb! It's about having someone you trust by your side, being your biggest supporter and fan, bringing you unexpected joy and challenges.
It's about two adults coming together who are committed to one another AND to the relationship…who make their way through the the problems and come out the other end stronger as individuals and as a couple.
Its sweet…almost always. [smile] And my favorite part is feeling safe and loved every day…just for being me. Finally.
PPS: Don't forget to check back here in a couple of days! You'll learn my first two major things I learned that totally changed my perception of myself and my chances for love. It really was life-changing for me and I know that you'll get a ton of value from knowing this too.
Until then…