Find Hope and Find Him Private Coaching
 "I truly believe I am in love for the very first time. This relationship is so different from any other … I can't express enough how working with you has changed my life…even though I was a very big skeptic!"
~ Debbie 53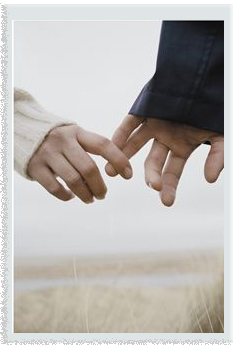 For the accomplished, smart, independent woman who is ready to have a partner in life, and knows that she CAN make love happen…

with the right help.
(Only a select number of women are accepted for my highly successful and personalized coaching programs. If you are reading this, it is because I admire you, and I am confident I can lead you to the love you so deserve.)  
When you are one of my exclusive private Find Him and Find Hope clients, I am your expert guide, teacher and compassionate cheerleader as you journey through powerful inner exploration and on to bringing quality, grownup men into your life. 
You will transform from a pretty happy single gal, to a deeply fulfilled, proud, empowered woman who knows how to love and be loved. You will have 100% hope of getting that love and companionship you have wanted for so many years. And you will know exactly how to attract it.
This comprehensive "Find Hope and Find Him" program gives you the gentle support, must-have information and tangible, real-life tools you need to get out there, meet good men and find the one who becomes your loving life partner.
You will break free from years of the fears, worries and beliefs that have had you paralyzed or stuck in the same negative cycle. You will feel proud and worthy and clear about the man and relationship that will make you happy. You will be in control of your dating process and able to attract the men you like who are ready for relationship.
Honestly, this is not for the uncommitted. Your best results come when you are willing to dive in and stay focused during our time together. I am here to be your mentor, teacher and absolute supporter. Ultimately, though, your success takes place when you are open to new information, willing to step outside your comfort zone and committed to taking direct steps toward meeting fabulous men. (Remember, all it takes is ONE!)
During our time together you will:
Feel confident as a woman worthy of the love of a good man by rediscovering and falling in love with yourself.
Eliminate the exhaustion that comes with dating by having clarity about how to share who you are in a positive yet 100% real way.
Pick the men who will make you happy and dump the rest because you'll know exactly what you want in a man and relationship.
Stop getting the same bad results by identifying your self-sabotaging thoughts and acts and managing them once and for all.
Truly enjoy yourself on dates because you have a true understanding and appreciation of men.
Be the woman that the interesting, passionate, love-minded men want to date (not just be friends with).
Get what you want and need from men by learning how to make yourself #1, and communicate your needs in a kind and clear way.
[show-testimonials taxonomy='private-coaching-find-hope-and-him-single-position' orderby='menu_order' order='ASC' layout='grid' options='theme:speech,info-position:info-left,text-alignment:left,columns:1,display-image:on,image-size:ttshowcase_small,image-shape:circle,image-effect:none,image-link:on']
This is for you if you're ready to:
See yourself for the beautiful Woman you are and embrace your gorgeous feminine power.
Unstick yourself from limiting beliefs and old patterns so you can break free, have fun and meet the right men.
Get clarity on the man and the relationship you want and deserve.
Learn more about how GROWNUP men think and feel so you can have successful communication and you don't waste time and energy trying to figure them out. (I'll bet that you're usually wrong, anyway).
Successfully communicate with and attract the good guys (and chase those not-so-good-guys away).
Make good choices based on what will make you happy for a lifetime…not just one night.
Be confident in believing you will be a loving, powerful, yet cherished partner of a man who will make you happy for life.
Attract and maintain an authentic, loving, grownup relationship.
[show-testimonials taxonomy='fhfh-page' orderby='menu_order' order='ASC' layout='grid' options='theme:speech,info-position:info-left,text-alignment:left,columns:1,display-image:on,image-size:ttshowcase_small,image-shape:circle,image-effect:none,image-link:on']
Here is how I will guide, encourage and support you toward your SO important goals in love and in life:

10 (Ten) One-on-One private coaching sessions (50-minute sessions conducted by telephone or via Skype)
6 (six) Hours of Audio Training and accompanying workbooks
1 hour of "DATE 911 Laser Coaching Support" used in 15-minute increments, this emergency coaching is available when you need a pick-me-up, specific tips to prepare for a date, or help debriefing after a date
Follow-up to each session with written documentation of agreed-upon action steps and exercises to keep you on track and focused between sessions
Email support throughout the course of your program
Recordings of each coaching session
A new or updated Online Dating Profile
Homestudy courses Get Online, Get Noticed, Find Love and DLAGU Bootcamp 
My eBook: 7 Secrets to Finding Love after 40
Using my proven 6-Step System to Find Hope and Find Him, this very personalized one-on-one coaching allows us to fully explore the woman you are today, what you have to offer your partner, what will make you happy, and what is standing in your way of fulfilling relationships with men.
You will feel more confident and able to be your true self, feel more in control, become better at picking and attracting men, and be filled with hope and positive anticipation of the happiness and pride that lies ahead.
Our sessions will always include celebrating the fabulous woman you are and defining the man and the relationship that will bring you long-term happiness.
I will get you online or update your current online presence. Then, with my support, you will start down the path of a new way of looking at yourself, men and dating.
Your work with me requires your commitment to growing and learning. That means showing up mind, body and soul and completing assignments and practices.
Your investment for the LIFE AND LOVE CHANGING Find Hope and Find Him 4-month private coaching program is $4600.
A 3-month payment plan is available. 
[ez_big_btn color="blue" url="MAILTO:bobbip@datelikeagrownup.com" target="_self"]EMAIL ME NOW [/ez_big_btn]
Here are the 6 Steps that will lead you to YOUR grownup love story…with me as your personal guide:
Step 1:  Who Am I? Falling in Love With My Grownup, Sexy Self

Yes, you know you are attractive, smart and downright spectacular. After you complete this step you are going to OWN that when it comes to dating, romance and relationships. You see…you ARE the woman the men you want WANT, you just want to make sure you are Her when you're with men!
Using my unique powerful, but simple method, you will get reacquainted with the whole you, including the gorgeous feminine you, and be able to express her to attract the masculine man you want to share your life with.
Step 2: I'm Fantastic, So What's the Damn Problem?
If you're like many successful, single women, your 18-year old is still steering your ship when it comes to men, dating and relationships. I will guide you through digging in and uncovering the voices in your head that self-sabotage and veer you off-course from your oh-so important goal. Then, you will learn powerful tools to shut those voices down and allow your grownup self to run this part of your life as well as she runs the rest!
Step 3:  Who is He? Getting Past My List
There is a gigantic difference between a man who is a good date and a man who is a good mate, sister. In this life-changing step, you will learn why the men you have been attracted to just don't work out.
When you complete my process, you will be crystal clear about the man and relationship that will truly make you happy. You will also know how to spot a good guy when he's sitting in front of you and quickly chase away the losers and leavers!
Step 4: Casting the Net: Where is He and How Do I Meet Him?
Yes, I'm going to give you places to go and things you can do so you can be in the company of attractive single men. That's the easy part , though, because good men they are everywhere. The key is what to do once you're in the same room with them!
Get ready to learn how to confidently and effectively initiate and maintain conversation with any man and, if you like him, get him to ask you out. You will receive scripts and answers to many of your 'What-If's' to guide you. You will also learn some simple but oh-so effective uses of body language…all designed to help you make connections in a 100% classy and grownup way. No game playing…just being YOU and attracting the guy who digs who she really is.
Step 5: From Rendezvous to Romance
Now learn proven but powerful techniques that help you relax into your dates as you flirt with flair, keep him interested and learn what you need to know about him so you can make a good choice. Also, learn exactly how to manage the blabbering man or the silent guy, what to do with the guy you like who puts the move on too soon, etc.
YOU are in control of all your dates and I'll show you how to take that on with class, kindness and grace. This way your dates will be fun no matter what and you won't miss great opportunities with good men. (Which you are doing now…I guarantee it.)
Step 6:  Should I Stay or Should I Go?

Learn the specific questions to ask and things to consider when deciding if he's a potential great mate. Instead of approaching this emotionally or with your intuition – which hasn't worked so far – you will use all your previous steps to inform your decision. This balance of head and heart IS Dating Like a Grownup. If he is for you,   If he's not, learn when and how to leave. 
Your investment for the LIFE AND LOVE CHANGING Find Hope and Find Him 4-month private coaching program is $4600.
A payment plan is available. 
[ez_big_btn color="blue" url="MAILTO:bobbip@datelikeagrownup.com" target="_self"]EMAIL ME NOW [/ez_big_btn]
[show-testimonials taxonomy='private-coaching-main-pg-slider' orderby='menu_order' order='ASC' layout='grid' options='theme:speech,info-position:info-left,text-alignment:left,columns:1,display-image:on,image-size:ttshowcase_small,image-shape:circle,image-effect:none,image-link:on']
[show-testimonials taxonomy='find-hope' orderby='menu_order' order='ASC' layout='grid' options='theme:speech,info-position:info-left,text-alignment:left,columns:1,display-image:on,image-size:ttshowcase_small,image-shape:circle,image-effect:none,image-link:on']