[su_row][su_column size="1/3″]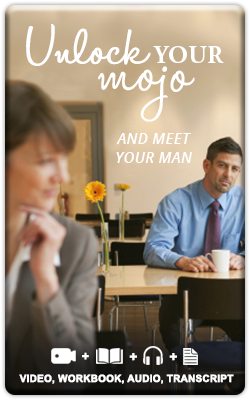 $197.00


[su_testimonial]

Thanks to you, I'm open to conversations with men I don't know. I smile. I feel kinder and lighter.
On the bus a guy complimented my hair. I thanked him, trying not to blush. (I'm a 40 year-old blusher!) Then, with my newly learned feminine energy and courage, I sweetly wished him a pleasant day. He thanked me and told me I was beautiful. ME! All because I changed the energy I put out there! Who knew?!? It's so Fun!
– Terri, 40
[/su_testimonial]
[/su_column] [su_column size="2/3″]
Unlock Your Mojo and Meet Your Man
with Bobbi Palmer
Feel Sensational and Sexy No Matter How Old You Are, What Dress Size You Wear, Or How Long It's Been Since You…
Men are looking for YOU – I'm here to show you where they are, what they want, and how to meet them, talk with them and get dates.
Maybe these sounds familiar:
I haven't dated in so long that I wouldn't know where to start!
I'm too old. Who'd want to date ME?
I really should lose some weight before I put myself out there.
I've never been lucky in love. What's going to change that now?
Well, let me tell you something, sister: I used to say all of those things, too.
Yes. Me – the woman who is now a dating and relationships coach.
Me – the woman who had a super powerful brain, a six-figure salary and a circle of loving friends.
I used to look in the mirror and think, "Who's going to love ME?"
All the negative things I used to tell myself about my worth when it came to men just wasn't true. It was all lies.
Finding a loving partner at this time of your life is about getting your Woman (with-a-Capitol-W) unstuck and out from wherever she's been hiding.
The day I realized that I was a spectacular Woman, fat thighs, never yet married and all…I put myself on the path that led me to Larry – the man I wake up to every day feeling like the luckiest woman in the world.
But it wasn't luck that brought this spectacular man into my life. It was ALL ME!
Love would never had happened for me had I not opened myself up to learning how to Value Myself as a Woman and be my real, authentic self to attract the right men.
It's about unleashing your grownup, beautiful and desirable self. I did it for myself, I've done it for thousands of other women. And, for you, it all starts NOW.
What does this program teach you?
Here's the truth: Dating after 40 has it's challenges, but there is so much you already know. I'm not going to teach you anything earth shattering. I'm going to help you discover a few things that you need to remember (you knew them once) and a few things you don't yet know. And then I'm going to show you how to jump start your road to romance and get you closer to being the luckiest woman in the world.
I'm going to help you SEE and FEEL:
Your beauty. It's time to dig out that gorgeous, worthy and lovable woman, shake her off, and start embracing her!
Your desirability. The men you want WANT a woman JUST LIKE YOU. (I see this every single day. You just don't yet realize this yet.) Not only am I going to help you see this for yourself, I'm introducing you to grownup single men who will tell you in their own words.
Your resources. You have accomplished and overcome so much in your life. You already have so many values, skills and qualities that prepare you to attract the man and relationship you've been dreaming about. I'm simply going to show you how to direct those to your romantic life. And then I'm going to show you where and how to meet the kind of men you deserve.
These good men are WAITING FOR YOU to put yourself out there in a relaxed and real way. With the new feelings and the new information you will have after you complete this program…you will be able to start doing just that!
Unlock Your Mojo and Meet Your Man is specifically for single women over 40 who are sick of being single.There is no fluff in this program. No silly stuff. You're a busy, smart grown woman and I understand you want to just get to the business of figuring out this man-thing.
Here is what you get when you invest in this program:
[su_list icon="icon: arrow-right" icon_color="#D32250″]
Falling in Love with Your Grownup, Sexy Self: Start Attracting More Men…By Just Being You!
[su_list]
Having a deep love and understanding of yourself as a beautiful, desirable woman is the key that unlocks the door to love from a good man. This recorded session and companion workbook guides you through Step One of my 6-Step System for Hot Love after 40. Start owning how utterly attractive you can be to the men you choose. Then, discover my simple, genuine, grownup way to express yourself to men in a way that draws in the right guys and repels the wrong ones. You also get a verbatim transcript of the recorded lesson.
[su_list icon="icon: arrow-right" icon_color="#D32250″]
Casting the Net-Where is He and How Do I Meet Him?: Learn Proven Ways to Start Meeting Men Everywhere!
[/su_list]
Single men are everywhere and anywhere, but meeting them isn't as easy as just showing up in the same room. It takes a plan and some skill.
In this video presentation I give you new ideas of places to show up but, more importantly, teach you exactly what to DO and what to SAY to get his attention, make connections and get dates…all in a confident, classy and grownup way.

[su_list icon="icon: arrow-right" icon_color="#D32250″]
Get My Quick, Powerful Tips on the Most Challenging Parts of Dating in this "How-To" Video Collection
[/su_list]
These to-the-point videos contain actionable tips that address common challenges unique to women who have not been actively dating.
How to Release Your Fear So You Can Go for It
3 Ways to Stop Rejection from Stopping You
How to Flirt with Class and Style
[su_list icon="icon: arrow-right" icon_color="#D32250″]
Learn How I Found Love at 47 and Get My Step by Step Exercises: Story: Confessions of the World's Worst Dater – Her 7 Secrets to Finally Finding Love After 40
[/su_list]
In this highly personal book I share my fears, mistakes and secrets to finding my loving (hot!) husband at age 47. After you read it you will feel HOPE – maybe for the first time in years. You will also have real-life, proven steps and actions to take to create instant positive change in your life. Bring on the loving men! You also get a detailed workbook with powerful exercises and Action Steps.
AND I'D LIKE YOU TO HAVE THIS BONUS:
[su_list icon="icon: arrow-right" icon_color="#D32250″]
Hear From Real Single Grownup Men in Their Own Words in this Live Interview
[/su_list]
Listen as I interview single, over 40 men who share their thoughts and feelings about dating, relationships and sex. This is over an hour of uncensored, honest talk from 'the horses' mouth. What they say will most certainly surprise you.
Your grownup love story is waiting, but as you know he's not going to just come knocking on your door. You need to TAKE ACTION! The first step is being able to feel confident about yourself and have the tools to start meeting men. That's exactly what my program is giving you.
With love and support,

PS: You learned how to achieve your goals and go after what you want in the rest of your life, why wouldn't you do that with this part of your life? If feeling more confident in yourself as a Woman and knowing how to meet more men sounds like exactly what you need to kick-start your love life…then don't wait. Your clock is ticking and it's TIME TO TAKE CONTROL OF THIS PART OF YOUR LIFE. What are you waiting for?
$197.00

[/su_column] [/su_row]
[show-testimonials taxonomy='unlock-mojo' orderby='menu_order' order='ASC' layout='grid' options='theme:speech,info-position:info-left,text-alignment:left,columns:1,display-image:on,image-size:ttshowcase_normal,image-shape:circle,image-effect:white-border,image-link:on']