[su_row][su_column size="1/3″]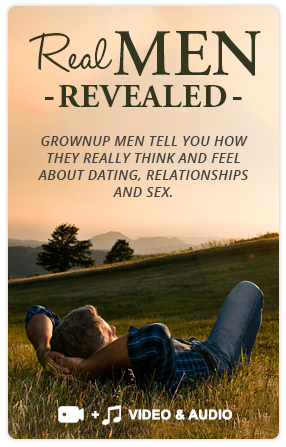 $79.00

[su_testimonial]
I thought I knew men, but I was clueless! It's so great to hear from the men that they really don't all go for younger women.
I now realize that I'm the kind of woman men want. Thank you Bobbi! It was so great to hear it from the horse's mouth.
~ Sally S.
[/su_testimonial]
[/su_column] [su_column size="2/3″]
Real Men Revealed: Grownup Men Tell You How They Really Think and Feel About Dating, Relationships and Sex
Deep down, many men are just like us: They feel insecure, frustrated and unsatisfied. They have fears and doubts. And, most importantly, men crave real connections with real women. It may be hard to believe sometimes, but it's true. And once you unlock some simple truths about men's thoughts and feelings, you can instantly begin connecting with them in a meaningful way we never thought possible.
Now here we are, dating in our 40s, 50s, 60s and beyond, and most of us still don't understand what the heck men do and don't want! We still want to attract and please them. We still live with some fear of not "being picked."
 But that's all about to change.
 This very special collection is for you if….
You're tired of trying to interpret what's going on with these guys and you want to get some truth straight from the source.
You're craving a real connection with a grownup man who's looking for a real connection as well.
You want to attract and please the right man, but you're bogged down with the feeling that you won't 'be picked'.
You wish you could know everything possible, and everything important, about the dating mind of a good man over 40
From a very young age, we get stuck with this notion that men are a totally different animal. We're supposed to believe that they think and feel differently than us, and that's why they act in ways that we just don't understand.
But it's all a lie!
Real Men Revealed gives you honest answers to questions you've always wanted to ask – and some you wouldn't have dared to ask – straight from the minds and mouths of mature, single, attractive men. (And one experienced dating and relationship coach…moi!)
 'Open Men: Open Mic' live recorded sessions:
THREE live audio sessions with 6 different bachelors, aged 40 to 70+, share the truth about who they want to date, how they want to date, how they pick their partners, when it's okay to have sex, what turns them on and off, how we more mature gals can attract men like them, what makes them feel good, what hurts their feelings and more in these candid interviews. (I've also included verbatim transcripts of both sessions for all of you highlighters out there!)
 'What's Wrong With Men?' multimedia experience
Explore what science has uncovered about men's & women's brains that explains why we think and behave so differently. When you understand that some ways that men think, feel and act are due to their "programming" rather than their choices, your days of feeling irritated and confused are over.
$79.00