I bet you didn't envision things to be like this at this point in your life. Looking to find a loving partner at this age? Being a woman dating after 40, 50, 60 or more? Are you kidding??
Sure…you have a good career, wonderful friends, a bunch of nice stuff…but you're still turning off the light every night with no one to say goodnight to.
You're still seeing all couples everywhere you go. Or being left out of some pretty fun social events because you're without a plus-one.   
Things in your life are good. But are you ready to admit that what's missing in an intimate, exciting, secure relationship? And that you want that now…before it's too late?   
I know you still have hope.
But maybe you have no idea how to find Him. Or even what your next step should be.
You don't need another book, course or group program. You need committed personalized support from a proven expert who knows how a single woman at your age finds love.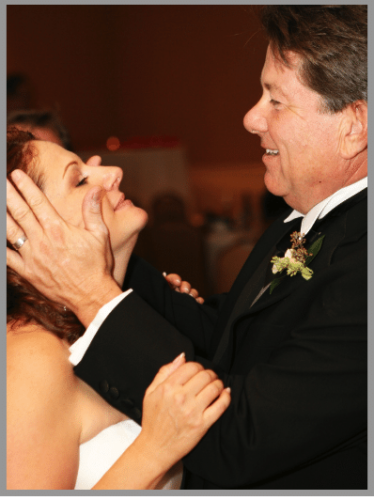 You need someone you can trust who understands that you're looking for a special man to make your life even better. Otherwise, you're truly fine being single.
Someone who knows that your feelings, fears, needs, and dreams are completely different from the 20 or 30-somethings.
You want, and you deserve, to be treated like the mature, accomplished woman you are. Not lumped in with the 'youngins' in other coaching programs.
When you become a Date Like a Grownup VIP Coaching Client, you get the focus, compassion, and respect you deserve. 
You also get the information, education, training, guidance, motivation and occasional kick-in-the-butt that will move you from where you are to where you want to be…
in the arms of a Good Man.
In 2006 I became a first-time bride at age 47.  Since then, I've helped thousands of women love their life even more, and find their own special love story.
When you become a VIP Coaching Client, you have a partner who is 100% committed to your success. You are my priority. Because of my high standards and level of service, I accept very few clients and rarely have openings.
Date Like a Grownup VIP Coaching is not for everyone.
You must be open to learning…and even being wrong.
Your financial investment begins at $6800 and requires at minimum a 4-month time commitment.
You must have the time and energy to be able to focus and make bringing love into your life a priority. 
You must be ready to trust—not just in me as your coach, but in yourself.
You must be ready to LOVE and BE LOVED.
Complete the Date Like a Grownup VIP Coaching Consultation Application and schedule an appointment. Let's talk.
SCHEDULE A45-MINUTE CONSULTATION'
---
WORK WITH BOBBI IN PRIVATE COACHING SO SHE CAN HELP YOU START MEETING HIGH-QUALITY MEN AND LEAD YOU TO LOVE!!
I admit it. I was a skeptic. I was convinced that no datable men would be interested in a "fluffy" 46-year-old career spinster…also that online dating was evil. But I was wrong, wrong, wrong. After just a few months of working on "my shit" (which is brilliant, btw!), I finally went online. Bobbi practically had to drag me kicking and screaming. She wrote me a kick-butt profile, and I started getting emails within literally minutes.
It's been about 3 months since I first went online, and am now dating a great guy* who thinks I'm fantastic. We are having a great time going on picnics, seeing movies, and get this — taking dancing lessons. Yes, dancing lessons. I have Bobbi to thank for all of it. Do yourself a favor, don't wait any longer. Work with Bobbi in private coaching so she can help you start meeting high-quality men and lead you to love!!- Jeanine S, 56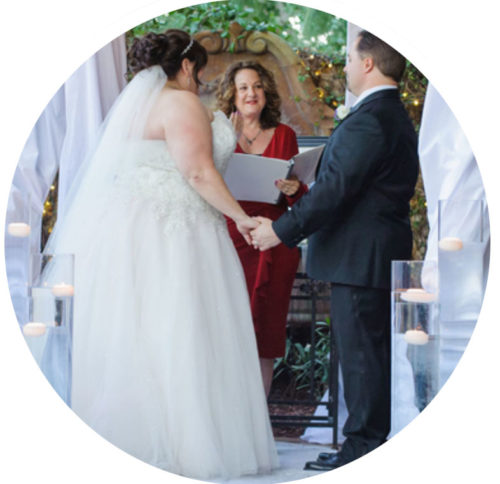 UPDATE: A year after they met I was honored to perform Jeanine and Ron's wedding. (Yah, the great guy she was talking about.) She wrote: "Take it from a former unhappy single girl who is now married to the love of her life! Bobbi Knows Her Stuff!!"
I'm VERY EXCITED TO ANNOUNCE THAT WE WILL BE GETTING MARRIED IN APRIL ON A CRUISE TO THE CARIBBEAN!!!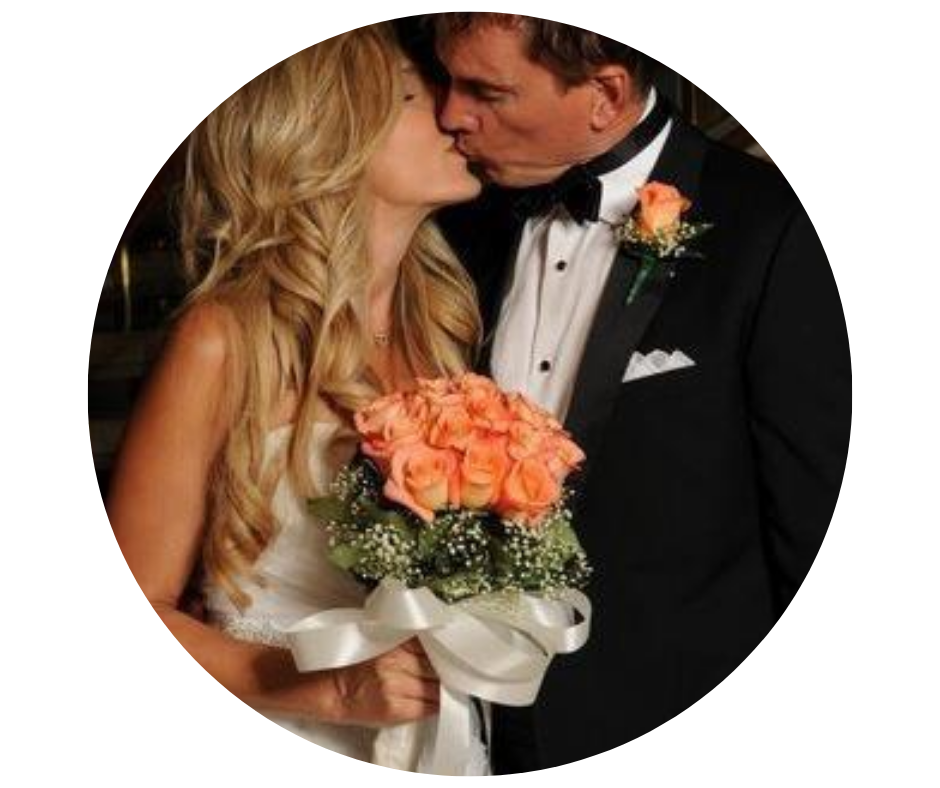 You are an angel in my life, and it's no accident our paths have crossed! I'm so grateful for your guidance, Bobbi! Thank you so much! I'm blissfully in love and having the time of my life with this amazing man! I definitely would not be where I am today without your guidance and support! Thank you so much for helping me to manifest my dreams into reality!! – Rebecca K, 40
You can see more Date Like Grownup success stories here. 
You are not alone, it's not too late, and there is nothing wrong with you.
There are just some things you don't yet know.
Being "out there" dating at this time of life can be fun and really interesting. Or it can also feel… Exasperating. Exhausting. Soul and ego-crushing. Boring. Shocking. Confusing. Depressing. Hopeless.
But now IT'S TIME.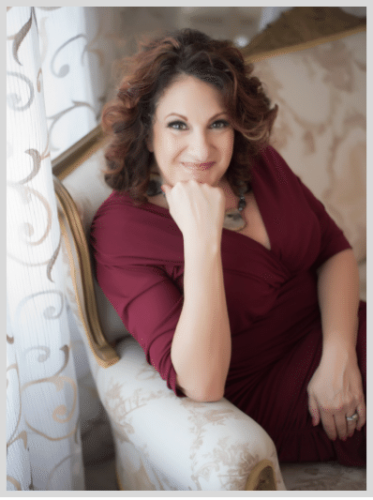 Time that you start living your grownup love story.
You know you can be fine being alone for the rest of your life, but when you let yourself think about it, you know you want MORE.
You want to love and to be loved. You want a partner instead of having to do it all yourself.
You want to be like all those other women who it's been easy for…or who have figured it out.
You haven't been able to.
And your biggest fear — when you let yourself feel it —  is that you will never know love or the life you've allowed yourself to imagine.
It's a rabbit hole you hate to go down. Wanting something so badly, and not knowing how to get it. Trying hasn't worked. Avoiding it hasn't worked.
Hey…I understand you. I was in and out of that rabbit hole for decades.
Being single at this time of your life is not your fault.

The FACT is that you can nail this love-thing once and for all.
All you need is some new information, compassionate guidance and someone you can trust to lead you, keep you encouraged and keep you accountable.
---
I TOOK A LEAP OF FAITH AND HIRED BOBBI AS MY PERSONAL DATING COACH. THAT WAS THE BEST MONEY I EVER SPENT.
I was an attractive, successful, intelligent, fun, active 64-year-old woman. I had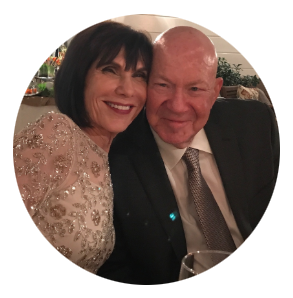 been on several different dating sites and dating a bunch of men over the years without success. I had a 25-year marriage and two long-term relationships that didn't work out.
Frankly, when I found Bobbi I was burned out, a little bitter and confused. It was apparent that what I was doing with men wasn't working, but I didn't know what would work. And I certainly wasn't getting any younger. I took a leap of faith and hired Bobbi as my personal dating coach. That was the BEST money I have ever spent.
Bobbi is intuitive and so supportive, and through her guidance and encouragement, I started seeing things differently. What a difference she made in the way I think about men and myself! I felt much more in control of the type of man I wanted and deserved. And I discovered some key things that were holding me back.
I love her kindness, patience, and exceptional coaching advice. In just a short time she moved me along from being scared to having fun dating.
Bobbi guided me through the whole online dating experience. I started meeting some quality, fabulous men for the first time in years and eventually met the love of my life! We've been together for over 4 years now and I couldn't be happier. He's my travel companion, lover, friend, confidant and so much more.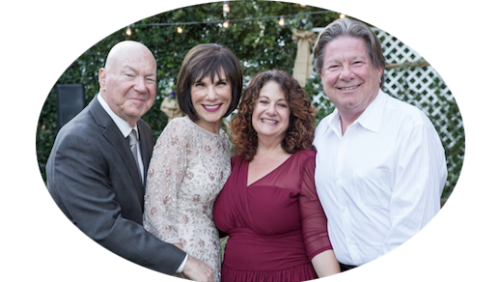 Having Bobbi on your side is like having a secret weapon in your back pocket. Thank you very much, Bobbi. You are the Best Dating Coach Ever!" – Karen
Note: A year or so after this note Larry and I attended Karen and Norman's beautiful Commitment Ceremony.
---
COACHING WITH BOBBI CHANGED EVERYTHING! HE SUPPORTS ME IN WAYS I'VE NOT EXPERIENCED BEFORE, WE HAVE A STRONG FOUNDATION OF SIMILAR FAITH, AND WE MEET EACH OTHERS' NEEDS.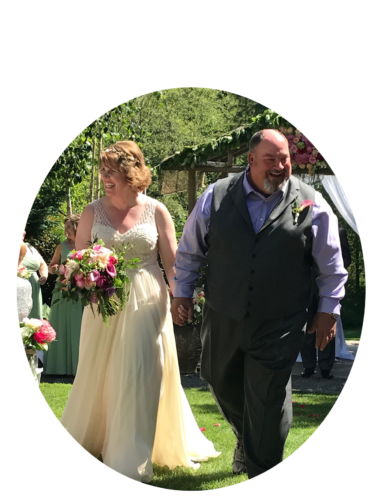 Before working with Bobbi, I was feeling incredibly stuck. I'd been divorced for 3 years and fumbled around with online dating for about 6 months without success. My lack of success made me feel like I couldn't ever find love – and my negative self-talk constantly came knocking.
Coaching with Bobbi changed everything! I am now in a relationship with a wonderful man that I met online. There's NO WAY I would have given him a chance prior to working with Bobbi. He supports me in ways I've not experienced before, we have a strong foundation of similar faith, and we meet each other's needs – everything that really matters to me. Bobbi helped open my eyes to be able to see what would really make me happy. And it's him!
Financially speaking, it was challenging to spend that much on myself on this program. But how could I put a worth on having more self-confidence and knowledge that my life going forward would be so much better than the past? That was priceless and I'm so glad I made the investment… to think I would have missed My Man!

UPDATE: I want you to know how much you have been a great impact to my life. Lance and I looked at engagement rings today! We are planning our wedding for summer 2017.
I would never have seen the amazing man Lance is without your guidance. I learned so much about myself and about what I wanted in a man while working with you through the Love program. Thank you for such an amazing gift. See you at my wedding! Happy days, ~ Jeannette T, 46
---
Ready to make the commitment?
Schedule a 45-minute Consultation.
SCHEDULE A45-MINUTE CONSULTATION
Date Like a Grownup 1-1 Private Coaching is for you if:
You have a great life, but lasting romance and love have alluded you.
You accept that you are responsible for your actions and outcomes, and that you have more to learn when it comes to yourself and men.
You are hopeful, if even a little nervous, about unapologetically committing to making this The Time you add joyous love to your already good life.
You are tired of doing everything alone, and are looking for a partner to share all things in your life.
You realize that you need a PARTNER in your journey to finding love; someone you can trust, who is committed to teaching, supporting, motivating, and expertly guiding you to your very personal goals in love and in life.
I support you regardless of where you live via telephone or using my private online meeting room. Your private coaching with me is very personalized, focusing on where you are in your life and where you want to be.
Together…we get you there.
With this foundation, you will be prepared to…
go out in the world as a confident, optimistic and powerful woman…
who is unashamedly committed to bringing love into her life…
and who knows EXACTLY how to DO it!
SCHEDULE A45-MINUTE CONSULTATION
Want to learn more?
Read more Date Like Grownup success stories here.