The women I am lucky enough to coach and support are in control of their lives. They have had career success, family success, and they've already ticked a lot off their bucket list. 
Now they are laser-focused on adding delicious, committed love to their already good lives. Ranging in age from mid-30s to 70s, so far this grownup love story is the one thing that has alluded them. 
WTF? 
We women of a certain age are used to exerting our skills, will and control to get (most of) what we want. We finally figured out how to do it, it's worked beautifully for years and now it's how we roll, right?
SMART. WOMEN. MAKE. THINGS. HAPPEN.
But this is NOT the way men want this love thing to roll. In fact, when it comes to grownup men and creating meaningful relationships with them, the opposite is much closer to the truth: Let go to let love in.
Or, as many have said to me: why can't you just chill?
Here is an excerpt from a conversation in my private Facebook group that tells you more. Let me know if this rings a bell for you, ok?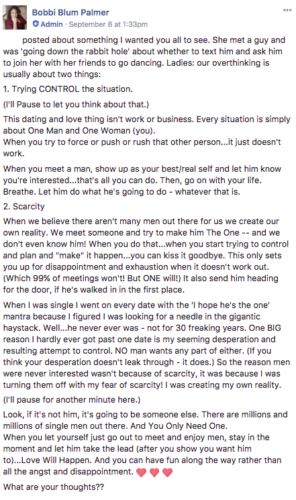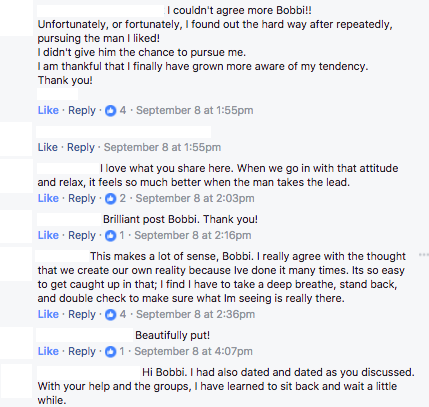 Did this make you squirm a little bit? Have any flashbacks? Have you been trying to control your love life?
I get it! If you are leading with your fear of scarcity and attempt to control everything (like I did for my 30 single years) you're directing your love boat right into a giant (lonely) iceberg.
How about this: instead of trying to MAKE love happen, maybe you can just LET love happen. That's exactly what I did when my husband and I met over 11 years ago and fell in love. Worked well for me!)
Here's what you do: keep your eyes and heart open. Keep learning more about yourself and men. Enjoy your moments. Live your best life. Let. Love. Find. You.
LET. LOVE. FIND. YOU.
Can you relate? What can you do just a little differently to welcome love in instead of trying to force it? Let me hear from you.