Find Hope and Find Him Coaching Program
 "I truly believe I am in love for the very first time. This relationship is so different from any other … I can't express enough how working with you has changed my life…even though I was a very big skeptic!"
~ Debbie 53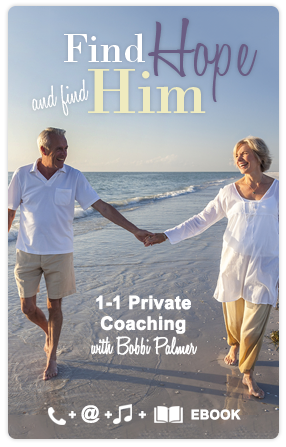 For the woman who is ready to bring love into her life and knows that She's the one who needs to make it happen.
When you are in my Find Him and then Find Hope Program, I am your personal coach for four months! You will transform from the sick-and-tired single gal to the proud, grownup, empowered woman who has 100% hope of getting that love and companionship you have wanted for so many years. And you know how to find it!
This comprehensive "Find Hope and then Find Him" program gives you the gentle support, must-have information and tangible tools you need to get out there, meet good men and find the one who becomes your loving life partner.
You will break free from years of the fears, worries and beliefs that have had you paralyzed or stuck in the same negative cycle. You will feel proud and worthy and clear about the man and relationship that will make you happy. You will be in control of your dating process and able to attract the men you like who are ready for relationship.
Honestly, this is not for the uncommitted. Your best results come when you are willing to dive in and stay focused during our time together. I am here to be your mentor, teacher and absolute biggest cheerleader. Ultimately, though, it's you who will be open to new information, willing to step outside her comfort zone and take direct steps toward meeting fabulous men. (Remember, all it takes is ONE!)
During our time together you will:
Feel confident as a woman worthy of the love of a good man by rediscovering and falling in love with yourself.
Eliminate the exhaustion that comes with dating by having clarity about how to share who you are in a positive yet 100% real way.
Pick the men you'll be happy with and dump the rest because you'll know exactly what you want in a man and relationship.
Stop getting the same bad results by identifying your self-sabotaging thoughts and acts and managing them once and for all.
Truly enjoy yourself on dates because you have a true understanding and appreciation of men.
Be the woman whom men want to date, not just be friends with.
Get what you want and need from men by learning how to communicate in a kind and clear way.
Here is the support you get when you sign up for my Find Hope and then Find Him program:

10 (Ten) One-on-One private coaching sessions (50-minute sessions conducted by telephone or via Skype)
1 hour of "DATE 911 Laser Coaching Support."Used in 15-minute increments, this emergency coaching is available when you need a pick-me-up, specific tips to prepare for a date, or help debriefing after a date.
Follow-up to each session with written documentation of agreed-upon action steps and exercises to keep you on track and focused between sessions.
Recordings of each coaching session via email.
Unlimited email support for four months.
My eBook: Confessions of the World's Worst Dater: Her 7 Secrets to Finally Finding Love after 40.
I can also set you up with an Online Dating Profile professionally written and photographs taken by an accomplished photographer (as an extra to this program).
This is for you if you're ready to:
See yourself for the spectacular woman you and show up with confidence and in control
Unstick yourself from limiting beliefs and old patterns so you can break free, have fun and meet the right men
Get clarity on the man and the relationship you want and deserve
Learn more about how GROWNUP men think and feel so you can have successful communication and you don't waste all that time and energy trying to figure them out (because I'll bet that you're usually wrong, anyway)
Successfully communicate with and attract the good guys (and chase those not-so-good-guys away)
Make good choices based on what will make you happy for a lifetime…not just one night
Commit yourself to creating a fulfilling and positive love life
Develop an authentic, loving and lasting relationship
Using my proven 6-Step System to Finding Hope and then Finding Him, this one-on-one coaching allows us to fully explore the woman you are today, what you have to offer your partner, what will make you happy, and what is standing in your way of fulfilling relationships with men.
You will feel more confident and able to be your true self, feel more in control, become better at picking and attracting men, and be filled with hope and positive anticipation of the happiness and pride that lies ahead.
Our sessions will always include celebrating the fabulous woman you are and defining the man and the relationship that will bring you long-term happiness.
If you would like, I will get you online or update your current online presence. Then, with my support, you will start down the path of a new way of looking at yourself, men and dating.
For all one-on-one coaching packages, your work with me requires your commitment to growing and learning. That means showing up mind, body and soul and completing assignments and practices.

BOBBI'S 6-STEP SYSTEM IS A PROVEN, EFFECTIVE METHOD THAT CAN TAKE THE MOST HOPELESS AND LOVE-WEARY WOMAN FROM SICK AND TIRED TO CONFIDENT AND INSPIRED!
Bobbi Palmer is simply the BEST coach in America for any woman over 40 who has tried to convince herself that maybe it's her "fate" to be single, or that she must settle for something less when it comes to finding love and relationship. I have seen Bobbi work miracles. I highly recommend you become a Bobbi Palmer success story now and get on with the REST of your life. YOU deserve it! - Marni Battista, Dating Coach, www.DatingwithDignity.com