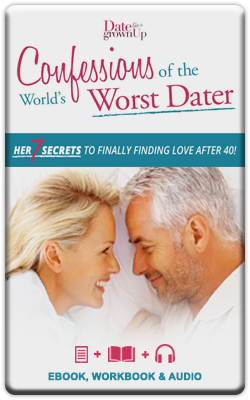 $19.00


Get this book and find the 'Mr. Worthy' of the super-woman that you truly are!!"
This book is a fabulous and practical guide to tapping into your own geyser of confidence to joyfully attract mature and fulfilling relationships into your life. It's a powerful compass for any single gal navigating the seas of dating . Stop settling...don't give up. Get this book and find the 'Mr. Worthy' of the super-woman that you truly are!!"
Sherry Fetzer, www.sherryfetzer.com
Confessions of the World's Worst Dater
Imagine yourself taking that romantic trip to Paris that you've been dreaming of. Imagine coming home from work and spending the evening with someone who understands you and wants to be with you more than any other person on the planet. Imagine finding a man who listens to your desires and then works his butt off to fulfill them.
I'm here to say that you can fulfill your dreams! Whatever you call it and whatever shape it takes, wherever you are in your life, you can complete your circle by finding that man to share your wonderful life. And guess what? You are closer than you think.
I spent many years learning and growing so I could fulfill my life's truest wish: forever love. I'm thrilled to share what I've learned so you can get closer to fulfilling your most precious dream.
This Ebook is for you if…
You haven't given up hope in finding the man of your dreams—yet you're not sure how to go about finding him.
You're tired of disappointing and frustrating dates with the wrong men.
You're sick of trying to fight off lonely, depressing thoughts but giving up on love isn't the answer.
You want to see how other women your age have found their way to happiness.
You want to feel love, affection and commitment from a true life partner.
I know you don't need a man. I've been there. It's just not that necessary. But I also know you want a man that will love you and complete the picture of happiness you know is possible!
Warning: This Story Will Inspire You To Believe In Love Again!
My story will show you exactly…
How I went from being a pretty happy single gal to a truly fulfilled married woman who feels safe and loved every day of her life.
A specially-crafted process that will help you make the subtle, but totally necessary shifts that will allow you to  invite the right man and the right relationship into your life…naturally and easily.
The way to keep the good things you have and keep loving what you love about yourself, while adding something extraordinary: someone who loves you and is by your side.
Change may not seem easy for you, but I've done it, as have countless women I've coached. You may need to rethink some of the belief systems that brought you to where you are now and start thinking and acting in new ways in order to attract this ideal man into your life.
In this book, I guide you through how to do this in a natural, simple way. Because, you see, the real truth is finding your happy, interesting, hot man isn't about changing yourself…it's just about being more of who you really are.
Seriously, sometimes it's as easy as you just being more YOU. I'm going to show you how I learned to do this, how it led me directly to the man I love and how you can do the very same thing.
Download the PDF eBook to your mobile device and computer for easy access to the information and support. You can return as often as you like to focus on specific points throughout the book or read it cover to cover at your convenience. Get a double dose of information and support when you take the bonus audio reading of the eBook with you on the go! Be sure to download and print out the special workbook as well – it includes exercises, brainstorms, and worksheets to help you make those subtle but incredibly important shifts necessary to bring the love you want into your life.

$19.00