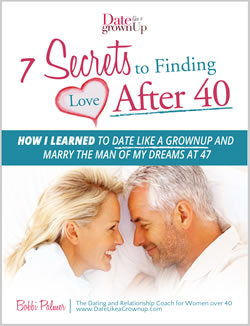 Only $9.00
(Yah, that's it)

Instantly Download the eBook AND the Workbook (pdf)
Get this book and find the 'Mr. Worthy' of the super-woman that you truly are!!
This book is a fabulous and practical guide to tapping into your own geyser of confidence to joyfully attract mature and fulfilling relationships into your life. It's a powerful compass for any single gal navigating the seas of dating . Stop settling…don't give up. Get this book and find the 'Mr. Worthy' of the super-woman that you truly are!!
Sherry Fetzer ~ sherryfetzer.com


7 Secrets to Finding Love After 40
How I Learned to Date Like a Grownup and Marry the Man of My Dreams at 47
I have a question to ask you:
Are you ready to get out of your own way and have the loving relationship you've been dreaming of?

You are so much closer than you think.
But you need to know these 7 Secrets.
Are you:
Feeling hopeless? Reading this book will fill you with the excitement of knowing that you can and will bring love into your life.
Feeling stuck? You will feel energized with new perspectives and real-life tools that start you on your way to happily find the good man who is waiting to meet a woman just like you. (Yes, they are out there and waiting for you.)
Feeling scared? No more fear for you, sister. After you read my book you will know the truth of who you are: a special woman with a deep well of strength, fortitude and boundless LOVE to give. 
I've been where you are. I am sharing exactly what I HAD to do to make the giant shift from being clueless about how to bring love into my life, to being 100% ready to meet and marry the man of my dreams.
I was hopeless about ever being loved by a really good man. After decades of being single, I felt stuck and I had no freaking idea what I had to do to change things. I didn't want to grow old and die alone…and I knew I was heading that way.  
I was wondering what was wrong with me.
At 45, with the help of an expert, I started learning some New Truths about myself and what was standing in my way of allowing myself to be loved.
 At 47 I became a first-time bride. Now, my life is filled with love. 
There was one specific thing I finally did that absolutely rocked my world and started me on my path to grownup love. I share it with you in 7 Secrets, but I want you to know it whether or not you buy my book.


Here is the #1 thing I did that made the most giant transformation in my life…and will completely change yours too.
Here it is, directly from my 7 Secrets to Finding Love after 40, page 8:
Over the course of a year or so reading, experiencing new things, going to seminars and being in therapy (there weren't dating coaches back then), I had an epiphany…then another…and another…
Epiphany #1: I want to be loved by a man.
I was able to say, clearly and without reservation, that having the right man in my life would make it better. Being loved by a man, experiencing intimacy and affection, would fill an emptiness in my life.
No more offhand comments about men screwing up my life. No more statements about not needing or wanting a man. Yes…I was happy without one. But the right man would bring me fulfillment that I've never known, and that's what I've always dreamed of. I wanted it. Period.
This is 100% true. Once I allowed myself to honestly and unapologetically admit that I needed to love and be loved by a man, the floodgates of my new life opened up! 
Maybe doing this seems difficult to you. I completely understand. It feels so vulnerable, doesn't it?  
Well, after you read 7 Secrets to Finding Love after 40, you will know exactly how I was able to feel this way. And how you, like me, can take the small steps to open yourself up to love. Your walls will start coming down, hopelessness and fear will be replaced with excitement and self-appreciation. You will know that you deserve love, and how to go about bringing it into your life. 
I spent many years learning and growing so I could fulfill my life's truest wish: forever love with a strong, kind, charming man  wonderful man. I'm thrilled to share what I've learned so you can get closer to fulfilling your most precious dream.
Warning:
After reading "7 Secrets to Finding Love after 40" you will know…

in your heart

…that you ready for your journey to grownup love.
PLUS you will have very specific next steps to take to get there.
Millions have found love after 40. You CAN fulfill your dream! (Even if it's been a secret.) Whatever you call it and whatever your love story looks and feels like to you, wherever you are in your life, you can find this  circle by finding that man to share your wonderful life. And like I said: You are closer than you think, sister.
Here is just a bit of what you're going to learn by reading 7 Secrets to Finding Love after 40 (and doing the exercises I share):
How to draw out the woman who goes after love unapologetically, confidently and authentically. (She is in there. I promise!)

How to go from being a pretty happy, very single gal to a one who is confidently on the path to bringing love and commitment into your life.

A specially-crafted process that guides you to the subtle, but totally necessary shifts that will allow you to invite the right man and the right relationship into your life.
How to use what you already know to start understanding men, appreciating men and meeting men…naturally and easily.
Here is what other women like you have said about 7 Secrets:
Thanks to Bobbi's 7 secrets, I will be walking down the aisle for the first time at age 48!  — Jeanine
I think her practical wisdom should be read by every woman, so they don't waste years in unsatisfactory relationships.  — Linda
I love the way Bobbi uses the readers' own life experience, showing her how to use the lessons she's learned already in life to make her dreams come true.   — Tina
Having become a widow after twenty-five years of marriage, I was in desperate need of advice about the new world of dating. Bobbi Palmer came to my rescue.   — Cris
I am ready to put my guard down and let the real me be seen.  — Diane
You see…
The real truth is that finding your happy, interesting, hot man isn't about changing yourself…it's just about being more of who you really are.
Be sure to download and print out the special workbook as well– it includes exercises, brainstorms, and worksheets to help you make those subtle but incredibly important shifts necessary to bring the love you want into your life. 
I offer this to you with all the love and support you deserve,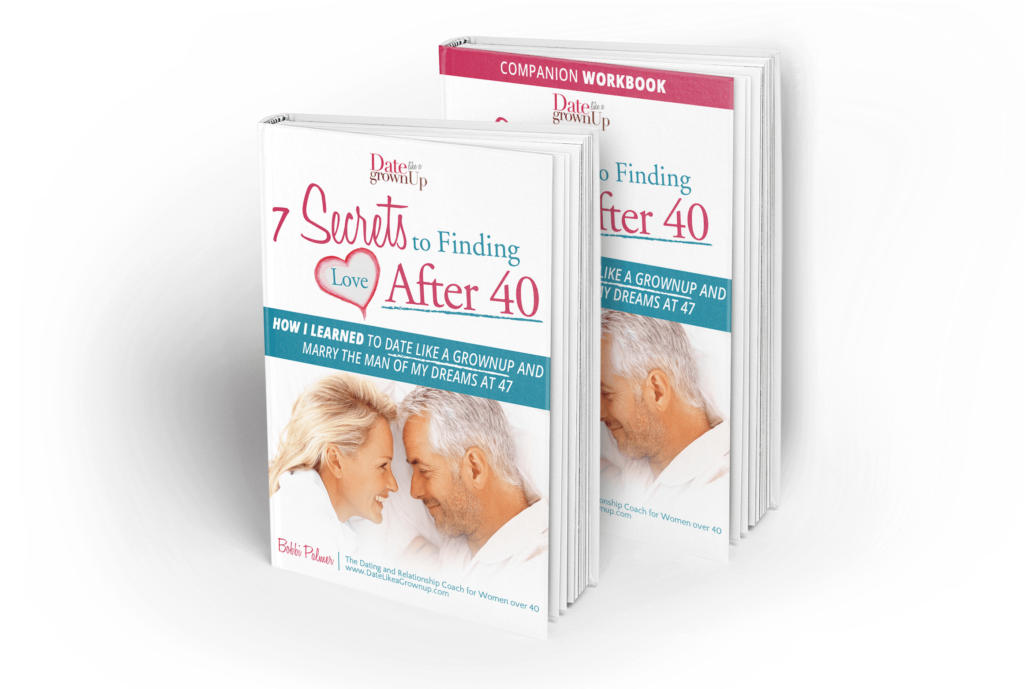 Only $9.00
Get Instant Download of your
eBook AND Step-By-Step Workbook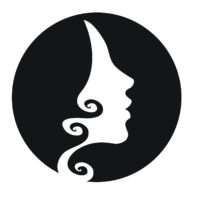 BOBBI, I'M ALMOST FINISHED WITH YOUR CONFESSIONS BOOK. I FEEL LIKE YOU SEE RIGHT INTO MY SOUL ON EVERY PAGE.
I feel like I am YOU. So many similarities, it's freaking me out... in a good way. –Lisa H.